The Name of Jesus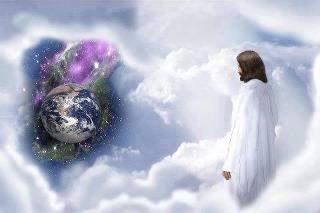 I came in so tired and worn-out after a long day's work and Immediately I retired into my bed. As soon as I closed my eye to catch some sleep, I felt the presence of a being in my room with me and I opened my eyes to behold the sight of this stranger. I couldn't look at the face, no thanks to my room that was poorly lit. Suddenly I heard the voice of him that sat by my bedside saying to me, "whosoever shall call upon the name of the lord shall be saved."  He continued, "It's like an open cheque that God is offering to man, that whoever is interested should fill his name and go and cash it. At this moment I spoke and said to him, "but I have been calling on that name…" and the stranger replied saying "you have not been calling him the correct way: you should say, "Jesus come quickly" and I should mention the specific area of my life I need him to intervene". At this moment I woke up into consciousness to discover it was a dream; better still a revelation from God.

A friend of mine use to tell me that revelation destroys frustrations. I totally agree with him going by my experiences after this encounter with the stranger I later discovered to be God's angel. As I started calling on the name of Jesus correctly as I was told to do, that same day I started seeing results in areas I have been struggling with.

Jesus says, whosoever, meaning anybody that call upon that name would be saved from whatever need, danger or harm.

How many of us if we're walking on the street and overheard someone calling the name that sound like your name wouldn't get your attention or be tempted to turn and see who's calling your name? Except it's not your name, but if it is, definitely you would want to turn and find out who it is calling you. Everything in life has a name and all of it responds to their names. Remember God told Adam to give names to every thing he created. Our names are given to us not only to differentiate us from one another, after all some people bear similar names, but to get our attention when the need arises. I remember the story of the man born blind named blind Bartimaeus.  He was blind but when he learned that Jesus was passing his way, he shouted with a loud voice, "Jesus, son of David have mercy on me" Many folks are where they are today because they refuse to cry out. If you don't cry out concerning your challenge, it will just remain there quietly with you and such a person would be dying slowly. And back to the bible story on the blind Bartimaeus, the crowd tried to make him keep quiet but he cried the louder. Sometimes when one is crying out in prayer you observe that it seem as if the problem or challenge is getting worse instead of better, at that moment you need to cry louder than you used to. What I do is this, when I am praying and confessing God's word concerning some issues, and it seems nothing is happening or  as if is getting worse off , at that moment I increase duration of my prayers and intensify on my rate of confession of the word. And when I do I begin to see results manifest. Blind Bartimaeus attracted the attention of Jesus because he refused to be silent over his challenge of blindness.. You can read it up in mark 10:52.

There is power in the name of Jesus. When you call on that name and ask him to come quickly or speedily as the psalmist would always do (psalm 31:2, 69:17, and 102:2), you would discover that Jesus would answer to his name and come speedily into your situation. Delays over answered prayers are minimized when you ask God to answer you speedily.

Another point I want to highlight here is the fact that we need to be specific when calling on that name. In the account of the blind Bartimaeus we earlier studied, Jesus asked him in Mark 10 verse 51, saying "what do you want me to do for you?". Many don't even know what they want from God. They appear before him now with a particular prayer request and the next minute is another prayer request totally different from the previous one they tabled before the lord. There is a strong need for us to be specific when we are in his presence. The psalmist in psalm 27 verse 4 said"one thing have I desired from the lord and that will I seek after…."   Until we are very specific and we can do that by streamlining our prayer points so that we ourselves don't get confused as to what we want from God, then only can our prayers receive an urgent or speedy answer. Remember the widow and the judge Jesus mentioned in Luke 18. the widow came asking for just one thing and that is "avenge me of my enemies", the wicked judge who do not fear God nor regard man had no option but to come to her aid. In the same Luke 18 verse 7and 8,  hear Jesus speaking "….and shall not God avenge his own elect, which cry day and night to him….i tell you that he shall avenge them speedily."

 Don't forget the name of Jesus forever will keep opening doors in heaven for everyone that calls on it. Read Acts 2:21, Romans 10:13, Joel 2:32.

Let me close by sharing with us an experience I had as a kid.  I lived with this aunt of mine who never attended a church service and would rather patronize the local traditional priest for spiritual matters. And this fateful day I was asked to use a boiling ring to heat up water for breakfast. Because it was a thing I had never done before, I went to plug the boiling ring to the electric socket with wet hands. |Immediately I plugged it to the wall my hands got stuck by some form of electric current and I was held up right where I was standing, at that point I screamed the name of my aunt who dashed in to the room where I was. On seeing me held up and in fear I heard her shout "Jesus", and instantly I was violently let loose and thrown to the opposite direction.  I quickly got up and ran outside.

I pondered over and over again the incident while I was growing up and wondered what is it about the name of Jesus that could invoke such awesome power to secure my release.
09:47:26 pm .
11
Dec
2012